Bennett Robot Works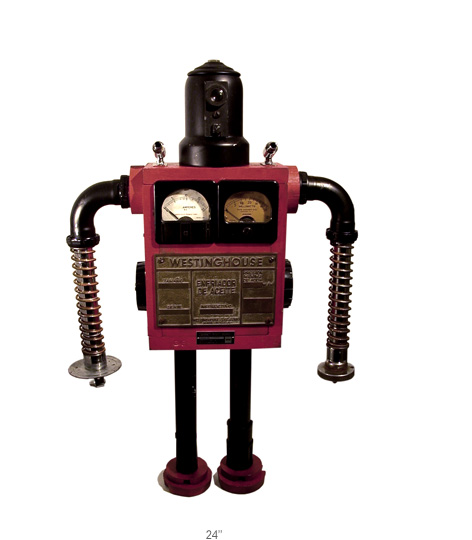 These robot sculptures
, created by Gordon Bennett are made from a mixture of found objects which are both old and new. these parts are found in various places including garbage dumps, basements, construction sites, and garage sales. They are inspired by
Norman Bel Geddes
and
Raymond Loewy
whose visions of the "Modern Age" helped shape industrial design of the 40's and 50's.
The materials are wood, metal, bakelite, glass, plastic, rubber and paint. Each robot is a unique, one-of-a-kind sculpture and recieves its own numbered metal tag as proof it's an authentic Bennett Robot Works robot. Each robot takes about a month to build. They range in height from 14" to 25". There are no moving or battery operated parts. They are not meant to be a toy.
Do not taunt happy fun ball.